Last weekend, I read articles by Jonathan Libov and Tom Critchlow on the changing nature of the web in relation to publishing and content marketing. (Their excellent posts are recommended but not necessary reading.) To summarize, the homepage as a destination has lessened in importance while publishing and marketing on alternative platforms has become necessary. While most people have encountered social media marketing, these new platforms increasingly include nontraditional media like Instagram, Snapchat, and Tumblr.
But this growing decentralization doesn't only apply to publishing and content marketing. Let's explore the possibility that the ultimate destination of this trend is fully distributed ecommerce.
The Traditional Model of Ecommerce
In ecommerce as it is realized on the web today, a store is simply a collection of brands and goods that can be purchased. This model, which has existed since the early days of the web, is a replication of brick-and-mortar commerce, with the store as aggregator of products. In this model, products exist only inside the context of their parent site, the store; and purchase functionality is executed through that parent website's interface. In other words, to buy something from that store, you have to go to directly to its website, select the item, and hit the buy button.
The ecosystem also mirrors that of brick-and-mortar commerce. Amazon is essentially the equivalent of a big-box department store. This leaves room for individual brands to sell their own goods, and for the existence of other marketplaces with niche focuses like Etsy or Ebay. It's also important to acknowledge ecommerce sites that don't just sell regular goods. Taskrabbit is a marketplace for services, but it operates according to the same principles mentioned above. Other examples include Spring, Airbnb, Kayak, and all of these accursed food delivery apps.
This model has been successful, and will probably continue successfully far into the future. For small independent brands, especially for those which value exclusivity, there's little reason to sell beyond a few select online retailers. But for other businesses, the ongoing revolution of decentralized marketing and publishing suggests a future where products and services can be sold in a distributed fashion across the web, without ever visiting the parent site.
The Distributed Model of Ecommerce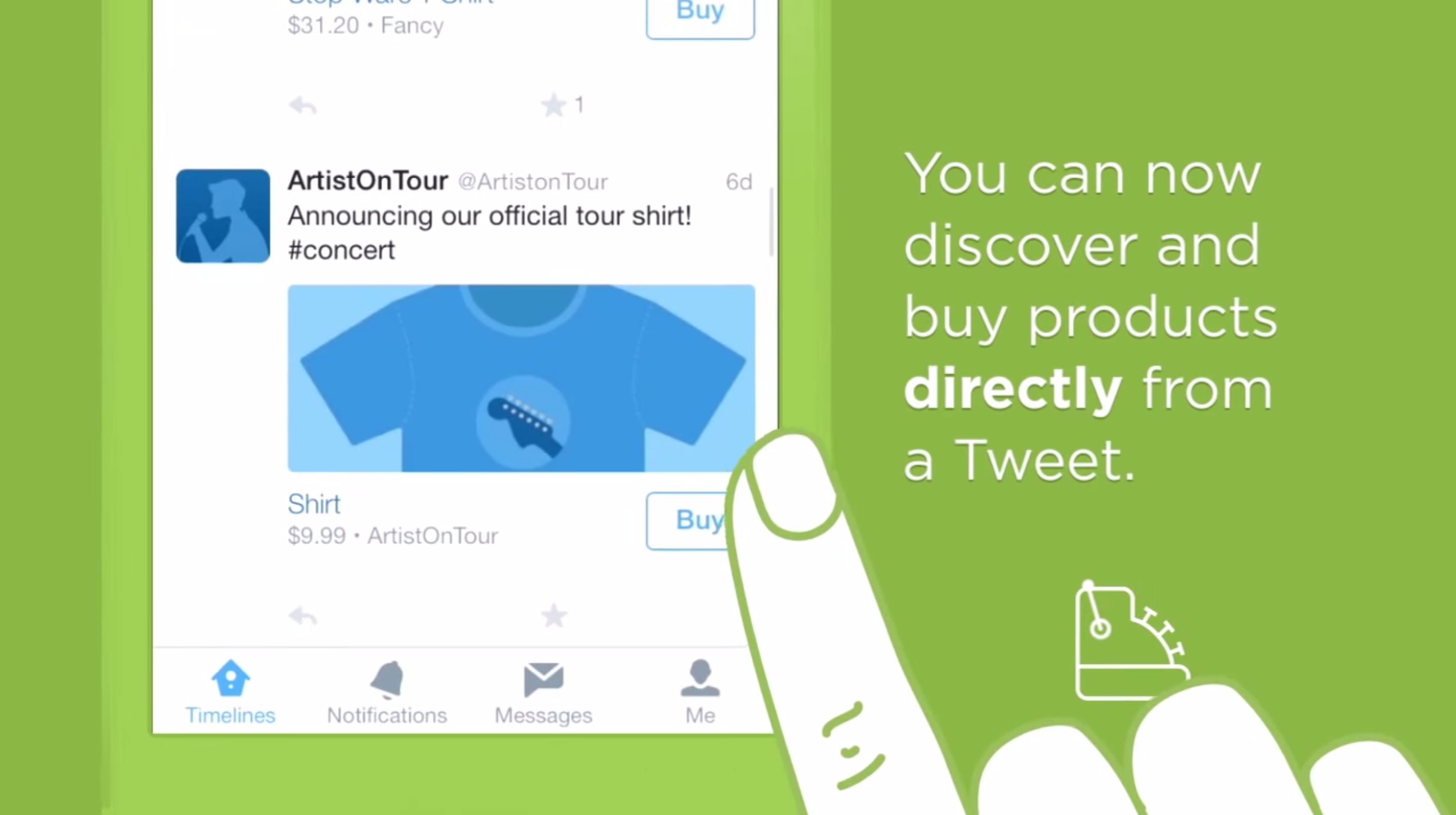 What you're looking at is the first real foray into distributed ecommerce. Announced 9 months ago, Twitter is slowly rolling out features that allow users to purchase merchandise tweeted by brands and organizations they follow. Theoretically, the new functionality makes it unnecessary to visit the website of the brand itself. Additionally, Twitter does not itself become a store, merely a platform for sales to be conducted, from which it almost certainly takes a small cut.
While Twitter is the first actor here, it's easy to see how the same logic can be transplanted to other websites. Brands will be able to market themselves not only with native ads, but inline products that contain purchase functionality. Of further importance are platforms like Google Search and Google Now, Pinterest, and Instagram. These platforms will likely be quick to follow Twitter and allow brands to show products with embedded purchase functionality in search results and in users' feeds. Facebook's recent steps towards Messenger as a business platform suggest that one day users could communicate with a brand, view products, and make a purchase all within the context of Messenger's conversation view.
The distributed model is unlikely to replace traditional ecommerce, but can easily coexist with it. Shops like Amazon, Spring, and Ebay, along with other less-obvious players like Big Cartel, are poised to create and enable similar functionality for their sellers. Consider the potential of these companies (or that of new platform!) to allow users to make self-contained product cards/ads that can live anywhere on the web as embeddable objects. This would create a new breed of ecommerce retailers that operate not just as destinations but also marketers, working to distribute items across any number of web properties. It also points to the future of apps like Pinterest, Fancy, and Japanese startup Sumally (which has already begun to build out this capability).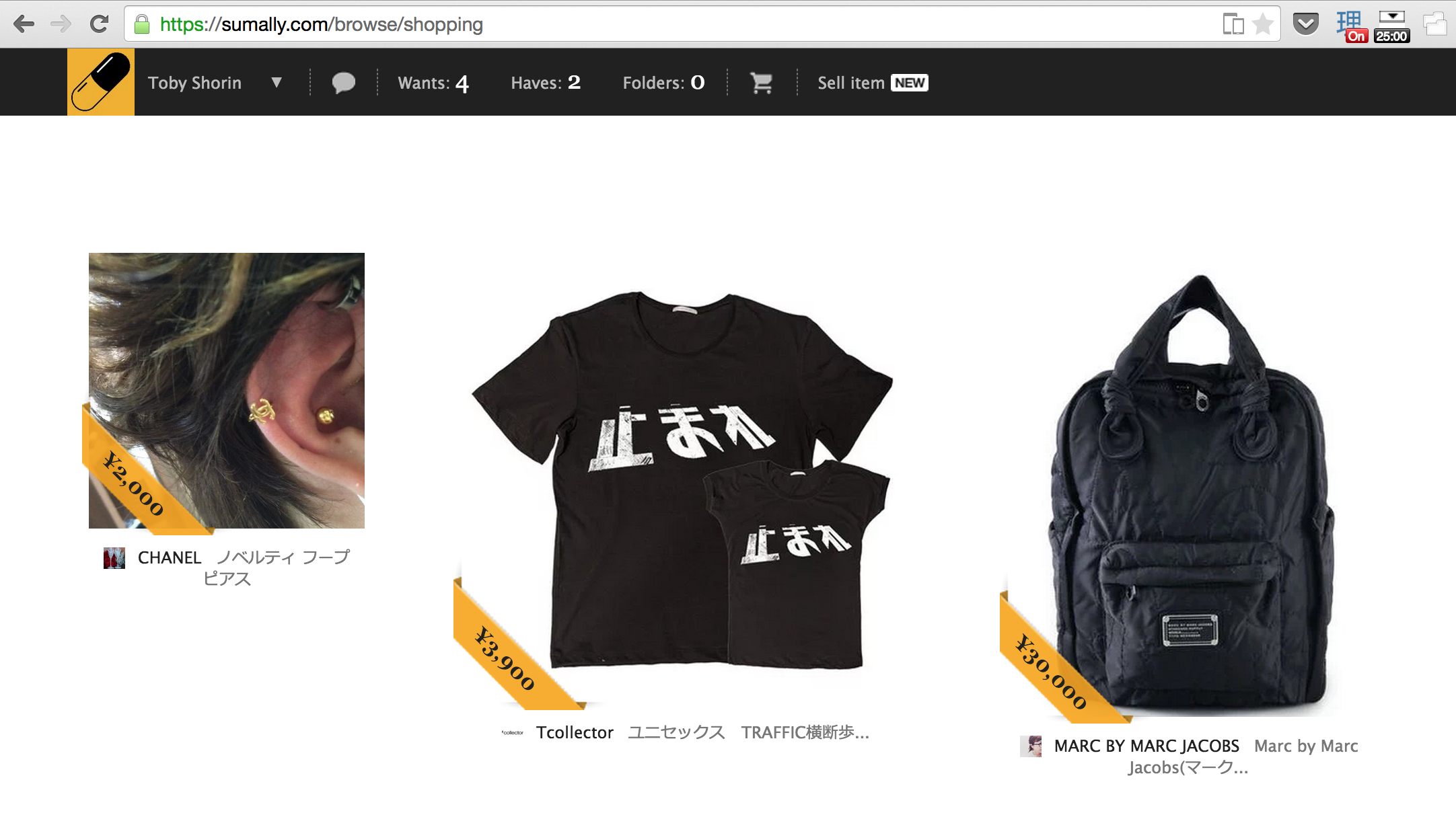 I suspect that there's room for a large variety of commerce sites that merely act as "aggregators" for these self-contained products, especially each focused on its own niche, or offering types of services — delivery, for example, or other value-add tasks. There's even the possibility for services that currently operate by the traditional store model to transition entirely to a distributed marketing model. One can imagine Postmates or the late Square Order operating by marketing specific meals to you through ads. (Around 6:00PM every day, a Google Search ad with a picture of delicious ropa vieja and a buy button: "Heading home soon? Forget about cooking have Cuba Restaurant delivered.")
~
I'll finish up this speculation with two ideas tangential to the scenario I've described here. Firstly, I find it interesting that with the Dash Button, Amazon has created the physical form of the self-contained product components I've described. Ultimately, it will be more sustainable to create an app for families in which product cards can be collected and easily reordered from Amazon, Google Shopping, or any physical retailer that finally manages to wrap its head around the digital marketing space. Lastly, it's easy to see how this advancement aligns closely with the much-heralded "card-ification" of the web. Wildcard, the app that turns web documents into cards and allows users to browse them, has obviously seen the future coming, but is ahead of its time. Most brands and sellers aren't yet ready to take advantage of alternative marketing platforms. But when they finally are, my trusty left-clicker is waiting.