Toby Shorin
April 26, 2016
Entry 008
As someone with an interest in exploring brands, an invaluable resource I have been learning much from is Magazine B. Based out of Korea, B is part of Joh & Company, an interesting conglomerate which runs a bag company, two restaurants, and this publication, while also doing brand consulting. Each issue studies a brand that the company considers to be "well-balanced". That's not to say every brand covered is universally loved; each brand appeals to the particular concept of balance proposed by founder Syuong Joh and his editorial team. B does not receive any financial compensation from the brands that it introduces. Per the publication's self-description:
"B is an ad-less monthly publication that introduces one well-balanced brand unearthed from around the globe in each issue. Between its covers, B not only shares untold stories behind the brand but also its sentiment and cultures that any readers interested in brand marketing and management can leaf through with ease."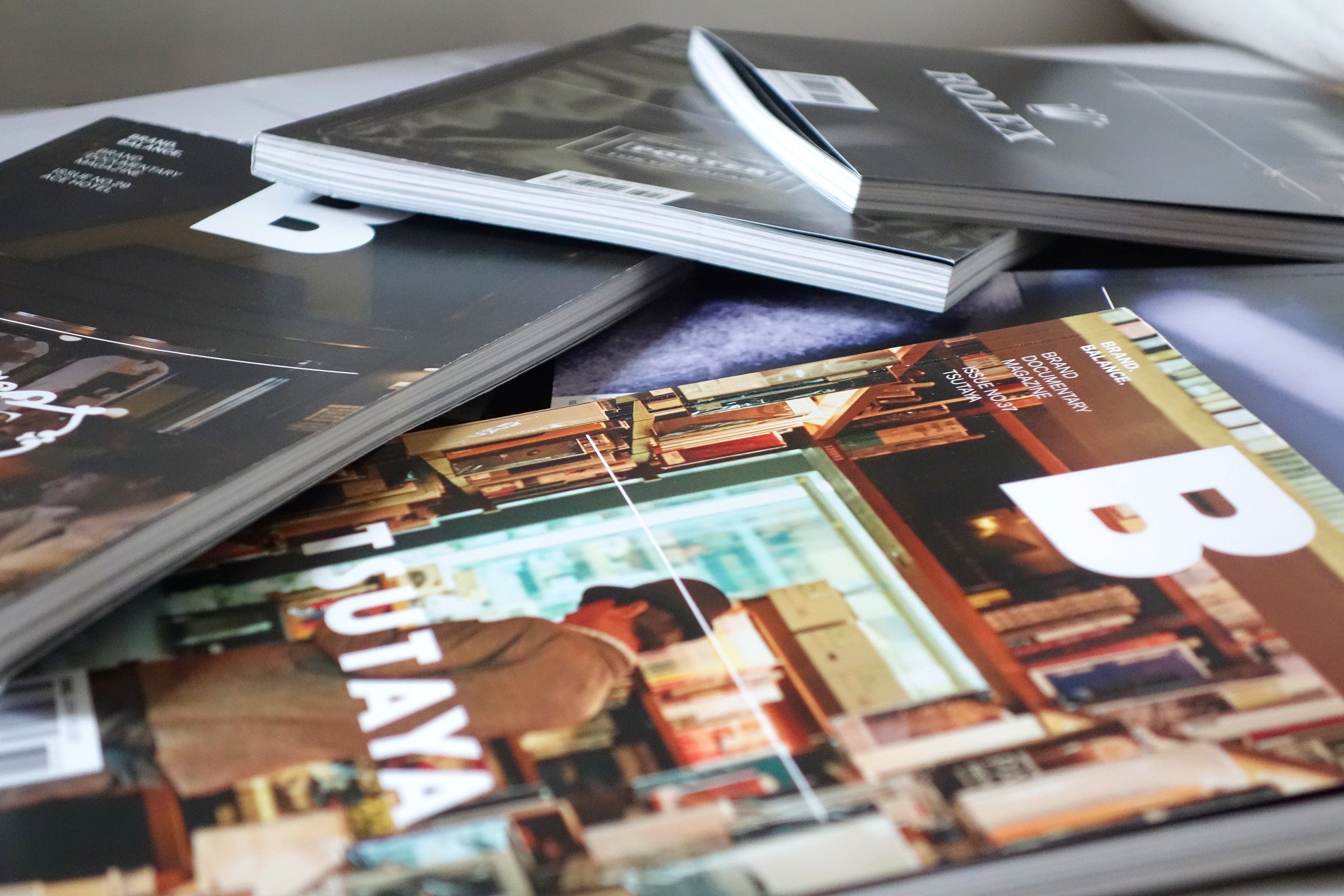 Reading Magazine B has afforded me insight into different business models and brand-building techniques I might never have otherwise discovered. I thought I might share these insights by keeping here a journal of thoughts about the brands introduced in issues that I have read. I hope to use this article as an index of brands I can use to explore further concepts in branding in future entries as well. That said, my summaries are no replacement for buying and reading the actual magazines, which are beautifully designed and a pleasure to collect.
Issues
No.17 - Porter
No.29 - Ace Hotel
No.30 - ECM
No.37 - Tsutaya
No.41 - Rolex


Issue No.17 - Porter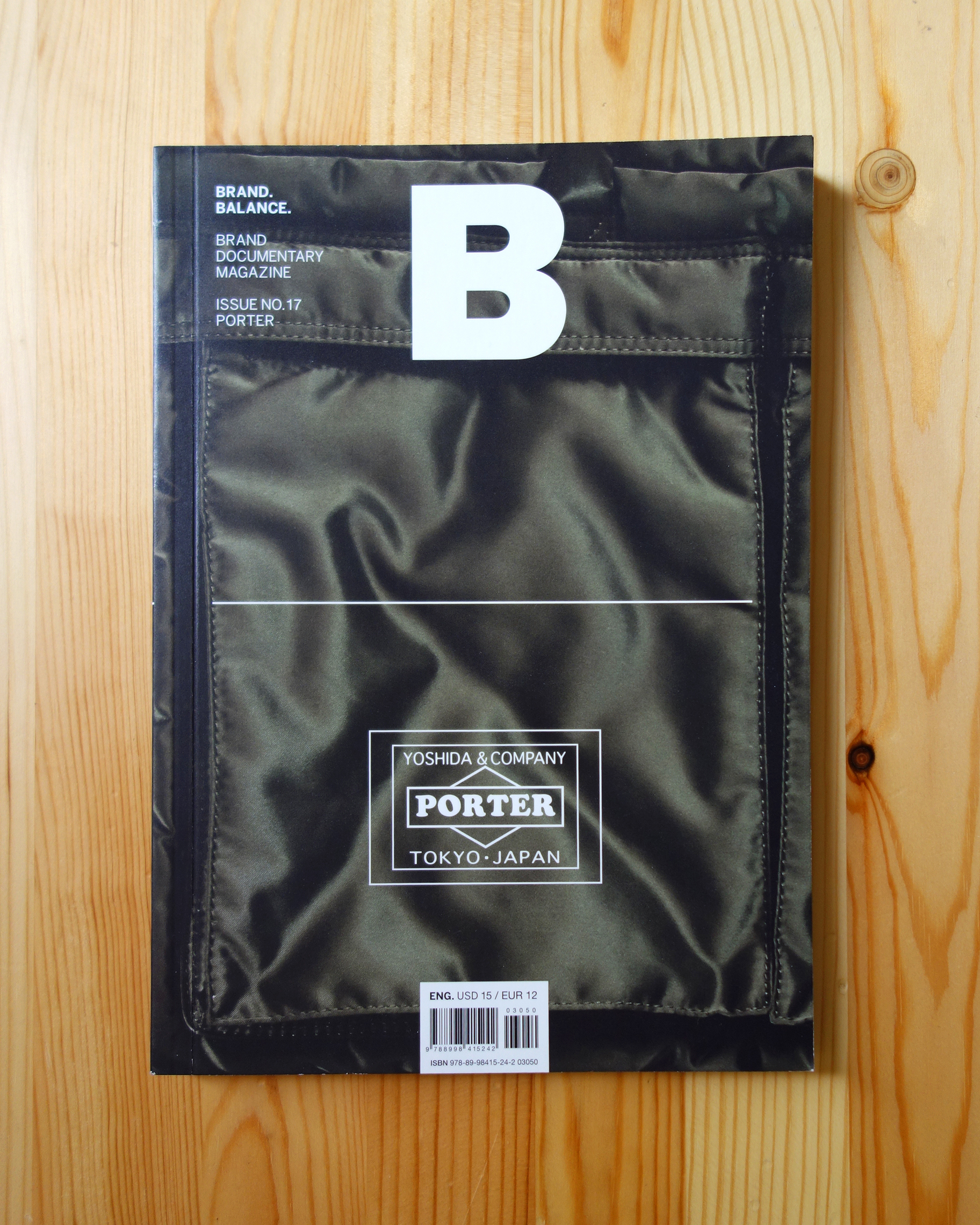 Readers who are familiar with carry products or with Japan will need no introduction to Porter. It is an iconic bag brand and an iconic Japanese brand, each in its own right. This issue of B identifies a close connection between these reputations and Porter's operational methodology. While it is understandable that a business's processes determine its brand to a significant degree, Porter seems to completely eschew traditional branding tactics like marketing and advertisements; I wonder if there is a company whose brand is as pure of an expression of its operations as Porter's is.
One area of Porter's operations that deserves significant focus is the interesting relationship between the company and its manufacturers – or the "craftspeople", as the company unfailingly refers to them. Porter makes contracts with individual craftspeople to provide various bag production services, while keeping the planning and design of bags in-house. This might seem counterintuitive for a company known for its quality of manufacturing and motto of "heart and soul in every stitch." Yet I find it in keeping with the philosophy of the company passed down by its founder. Kichizo Yoshida was himself a bag craftsperson, and stood fast to his belief that bags were first and foremost tools for carrying goods. In order to produce the highest quality tools, Yoshida thought the best policy would be to partner with expert tool-makers. Magazine B makes an effort to point out Porter's remarkable ability to produce hundreds of different bag lines, ostensibly with thousands of concurrent SKUs, without diluting its image. I see this as a secondary outcome of Porter's philosophy of tools as bags. Even though it produces dozens of new models every year, perhaps Porter's idea of each bag as a tool suited to a particular purpose and customer type allows it to maintain so many lines without ever being superfluous. This would be supported by B's reporting that Porter keeps a close eye on customer demand and feedback through its relationships with retailers.
Another interesting aspect of Porter's operations is the way it divides labor within the company. As befits a company that puts most of its focus into the products it makes, designers are given significant authority, and are responsible for ownership and production of entire product lines. The businesspeople of the company, even senior leadership, do not participate in the planning and design process. This is another example of Porter's practice of clearly delineating labor and responsibilities to prioritize product quality. Porter's whole approach to business, down to its respect for craftspeople, strikes me as strongly representative of the Japanese approach to design. When B interviewed the lead bag designer of Korean brand BLC about Porter, he expressed an opinion that "Porter is a brand that maintains its brand value not because of its concept, but because of its products" (58).


Issue No.29 - Ace Hotel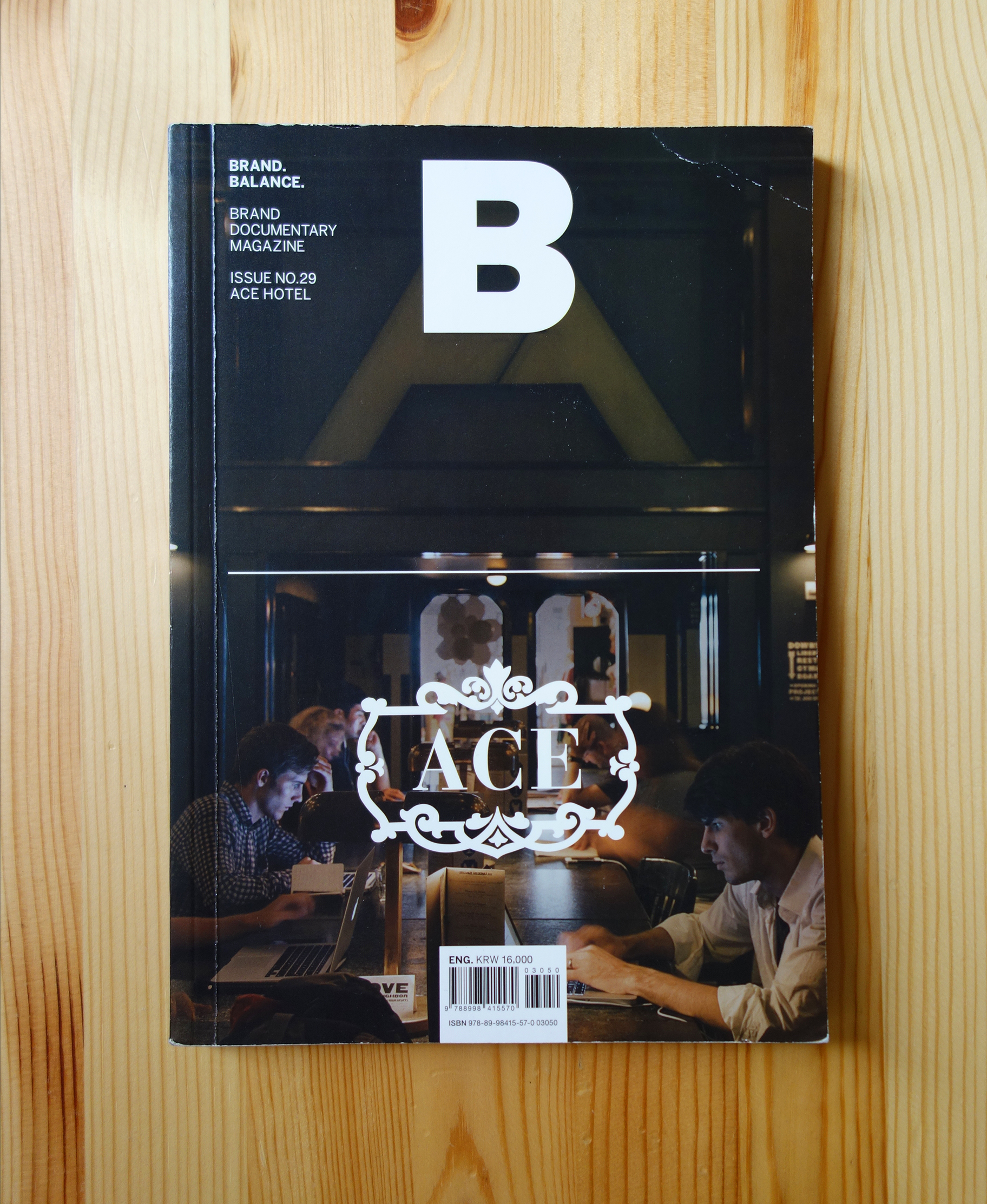 Recently an art director friend of mine told me about one of his clients, a Fortune 500 company which commands a large market share but which lacks a compelling brand story. The client often talks about needing to understand the "new urban male," yet treats the idea of this demographic with the typical derision one might expect of a jaded adult's assessment of hipster culture. My friend and his team have been pushing this company to develop its identity to better serve that segment but with no success. In the end, we mutually acknowledged, you can't change a big company's brand. Successful brands with observable qualities (like the brands covered by Magazine B and captured in this resource) develop organically, inwards out from the characters of their founders and managing teams, and are sustained by internal structures. This episode is relevant for two reasons. Firstly, Ace Hotel is a prime example of both organic brand development and the business processes that reflect and keep the brand alive. Secondly, the story speaks to a difference between ages, one dealing with brands and lifestyles, which applies loosely to the hotel industry as well. In our case, Ace boasts an understanding of its own core demographic and greatly outperforms corporate competitors.
The founders of Ace Hotel had their origins in the Seattle nightlife scene as party organizers, eventually establishing a variety of promotion, marketing, and design companies. The first Ace Hotel was a commissioned project, and after its success, these entities coalesced into Atelier Ace, and the iconic Portland location was established. Along the way, the founders formed relationships with many of the prominent forces of cultural production in the area, like labels, club owners, bands, and tech companies. When asked about the central figure in all this, the late Alex Calderwood, many interviewees talked about his desire to connect and collaborate with others and to bring together people of different disciplines as the driving force behind all of these projects. Ace Hotel proves to be no exception. The hotel is famous for its high-profile collaborations with other well-known brands, the outcomes of which garnish its rooms and populate its in-hotel shops. A hat with Ebbets, a bathrobe with menswear brand Wings+Horns, and an Ace-branded Rega RP1 turntable are just a few examples. This is not the only level on which it collaborates with other companies. When Ace opens a location, it "brings its friends," like-minded companies like Opening Ceremony and Stumptown Coffee, which immediately give presence to the hotel and the area it selects. It also invites local brands and artists to collaborate on the interior designs and to set up shop the surrounding area. Lastly, Ace is most famous for its lobbies, which function as cafes and impromptu coworking spaces for the neighborhood as well as the hotel's guests. These practices could only have evolved from the founders' attitudes and involvement in the cultural scene from whence they emerged.
The original Ace Hotel opened in 1999, making Ace one of the first businesses to understand and capitalize on the power of brand collaboration. But Ace has mastered the technique, achieving what other companies who use collabs hope to do: become a lifestyle brand. By associating itself strongly with other businesses of various categories – coffee, apparel, music, and food, to name a few – Ace is more than a hotel. It is a particular lens through which to see and experience the world. In the eyes of its customers, Ace is more than a place to stay, "the hotel itself becoming the final destination" which "curates the experience" (67) of a city for its guests. The company is generally looked to as the leader in the growing lifestyle hotel trend. Moreover, as incumbent hotel chains rush to set up their own faux-boutique hotels like Starwood's W or Hyatt's Andaz, it becomes clear that only Ace fundamentally understands the modern urbanite consumer that it serves. Ace's brand and business practices map directly to the values of the current generation of 20 to 40-somethings. Incorporation of local brands and influences into each of its location? Authenticity and the hyper-local. Inviting and casually available multi-use lobbies? Creativity and undefined roles. Subtle expansions into other facets of life via brand collaborations? Lifestyles and experiences over companies and products.


Issue No.30 - ECM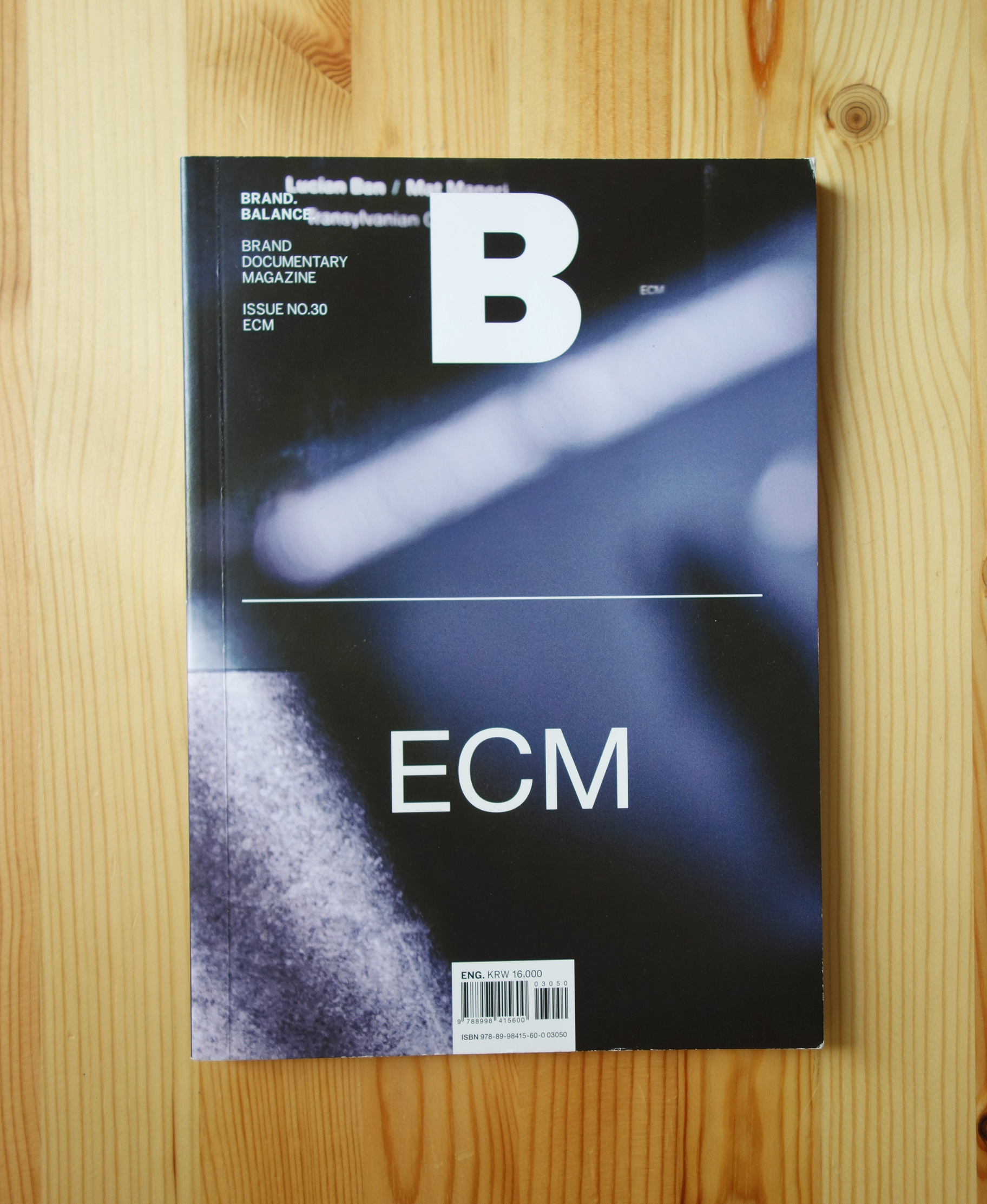 Music labels are strange entities in the world of brands. Whereas many of the companies explored by Magazine B are product-makers, labels are essentially curators that assemble artists under their own banner. It follows that the curatorial lens by which a label selects artists for its roster largely designates its brand identity, as well as the audience. This is important. "Customer development" by means of research, persona-building, and focus groups features prominently in the toolbox of many corporations; on the other hand, the audience of a label seeks it out for its unique offering. This dynamic is most purely manifested in the case of ECM. I am not a jazz aficionado, so learning about ECM and its deeply devoted fanbase has been an enlightening experience.
ECM is known for its jazz fusion and experimental world music releases, its minimalistic album covers, and most importantly, its sound profile. The words of ECM's motto, "the most beautiful sound next to silence," precisely capture its aural aesthetic. Extended silences, long reverberation, and clerically precise sound are its hallmark. The particular recording techniques used to capture this sound were pioneered by Manfred Eicher, the label's founder. Eicher's peculiar taste has driven all decisions for ECM since its inception, leading fans in the know to consider him almost synonymous with the label itself. His unique approach is well-reflected in the business; there appears to be no growth strategy for the company, only plans to slowly proceed developing its tightly cultivated sound and aesthetic vision. Eicher, quoted in 2011: "success is the quality of the records, and the response to them" (98).
Returning to the idea of a label as a brand based on curation: having one person be so clearly responsible for the whole endeavor of ECM can only have contributed to, if not been essential to its success. One of B's interviewees comes close to gripping this idea. "A brand is something that makes content more valuable and allows it to be recognized, isn't it? I think ECM's value is in its making albums that arouse the consumer's interest through a combination of all other elements that go into making music more attractive" (103). In other words, Eicher's holistic vision, starting with the "ECM sound" and including its art direction, exposition of experimental artists, and ECM's spirit of perfectionism, is what makes the label appealing. Maybe it is for this reason that most of ECM's advocates and fans seem to be creatives and creators themselves; I personally find it an inspiring example of an enterprise that serves as a clear articulation of the founder's creative sensibilities.


Issue No.37 - Tsutaya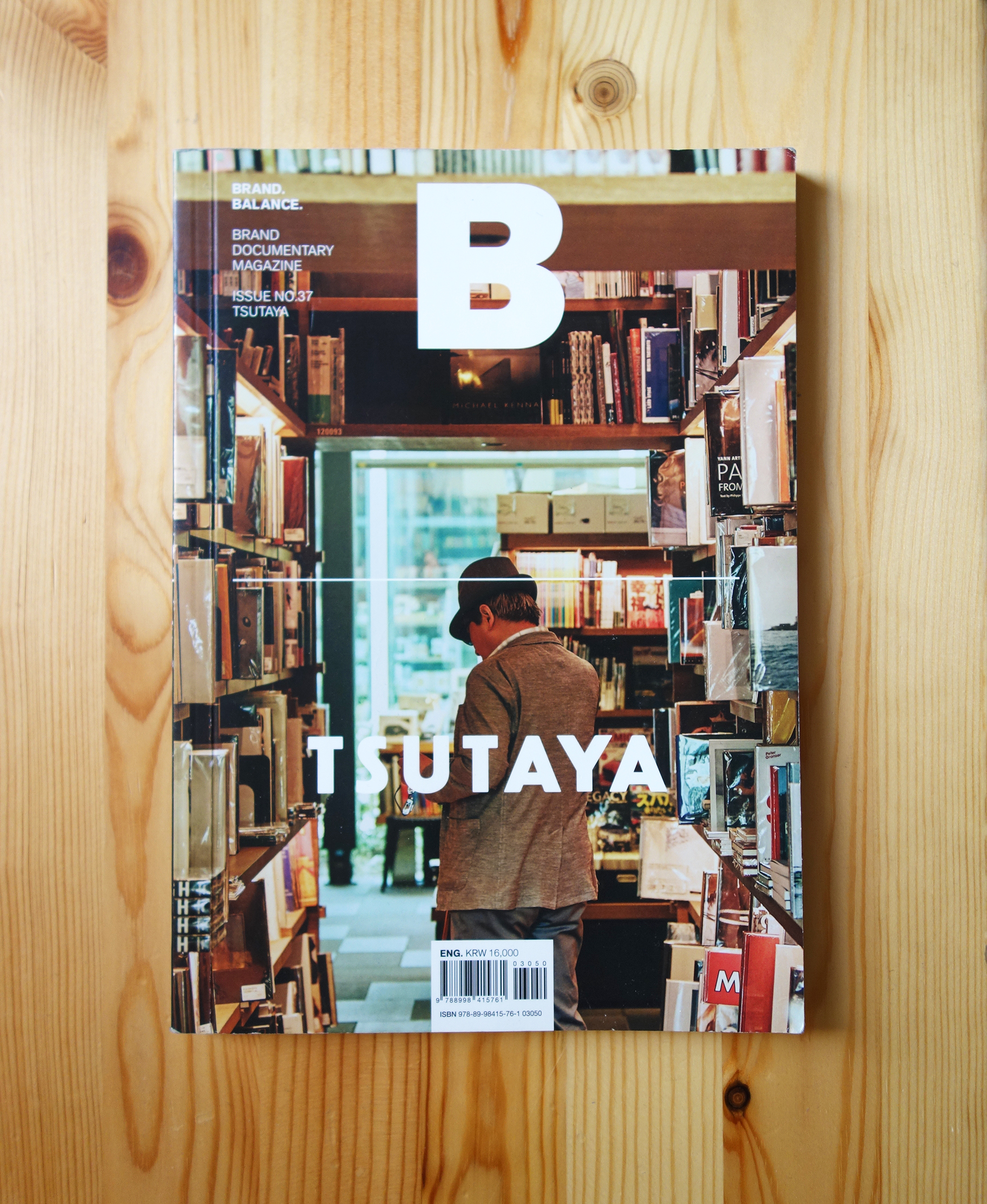 I bought the Tsutaya issue of B last year while in Tsutaya's Daikanyama T-Site and read it three times the same day. It was a life changing event. I am currently writing another post in which I heavily analyze Tsutaya's business model and its implications, so this summary will focus primarily on its brand. However, it will be helpful to understand what exactly Tsutaya is. Tsutaya was originally an extensive and well-curated bookstore and media rental shop. In recent years it has shifted its business towards also selling products related to various lifestyles, ranging from art and design to photography to bicycles. One might think of it as a "general store dealing in various products tied to different book-centered themes" (23). The line between Tsutaya and its parent company, CCC, is blurry. A second business of CCC is the widely used T-Point system, which allows customers to gain and spend loyalty points at hundreds of other businesses. Of course, this system ties into Tsutaya's online shop as well. Finally, CCC also uses the data collected by its T-Point business in combination with its design expertise to consult for other companies. From hereonout, I'll just call both entities Tsutaya for simplicity's sake.
Muneaki Masuda, Tsutaya's founder, describes Tsutaya as "a place where consumers could select a lifestyle that appealed to them." Despite its heavy presence as an offline business, Tsutaya's data-centricity allows it to express this customer-forward culture in subtle and important ways. For example, when opening a new store, it makes judicious use of data from the T-Point business to understand the interests and tastes of people living in the area, and designs the store and its contents around that demographic. It also employs "concierges", experts in the various lifestyle categories Tsutaya focuses on, to assist customers. This concept of information filtration combined with the company's respect for thoughtful design is present at every level of Tsutaya's business. It is a store in which someone can find a thing related to her every time she walks in. This is the nature of Tsutaya's brand proposal.
Japanese consumers are said to be singularly sophisticated, and even B cites Japan's "uniquely high demand for cultural content" (88). But although its business model has not been replicated outside Japan, I see Tsutaya's success as a reflection of the increasing sophistication of consumers globally, and of the growing complexity of the world at large. Tsutaya is leaving behind its attention-grabbing blue-and-yellow brand of old, and embracing a new brand that fades into the background. In simpler times, there may not have been a place for this new type of corporation that focuses more on the identity of the consumer than on the identity of the company. But in today's world of infinite content, instant gratification, and insidious data practices, Tsutaya is a beacon of hope.


Issue No.41 - Rolex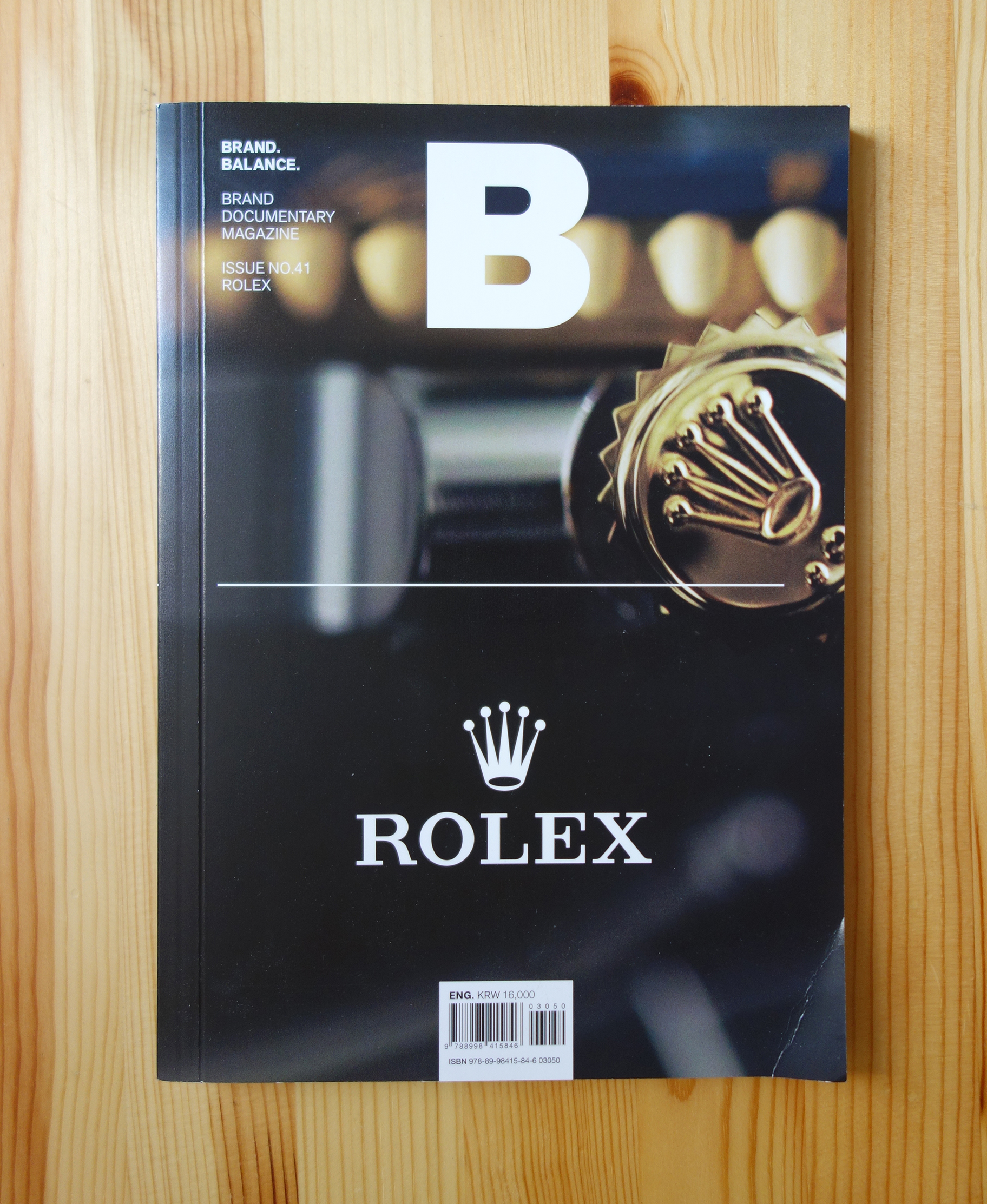 It goes without saying that a Rolex is a status symbol, embraced and perhaps reviled by people all over the world, making it a good target for brand analysis. Like many people in my generation, I tend to reject overt status symbols like gaudy watches, so I've paid Rolex little attention for most of my life. But knowing that disliking something usually causes me to ignore opportunities to learn valuable lessons from it, I picked up this issue hoping to glean some interesting knowledge. It turns out that Rolex's dexterity in maintaining and increasing its brand value over time makes for a fascinating case study.
An important place to start when examining Rolex is the space it occupies on the spectrum of consumer goods. At its retail price (we will come back to this later), Rolex sits squarely in the luxury segment of the market, rather than the ultra high-end segment. Although its watches are expensive, they are attainably priced for typical people, as opposed to a brand like Patek Phillippe, whose watches run in the hundreds of thousands of dollars. B quotes the CEO of a fashion consulting company as saying that Rolex delivers "a conventional but clear message. Wearing a Rolex means you've moved one step ahead in your life" (58). Rolex's relative affordability works in tandem with its message to lay the groundwork for its place as a status symbol.
Maintaining a tight control of supply and balancing pricing are typical ways companies maintain consistent market value. But Rolex has made other forward-thinking strategic decisions that have strengthened its position the market and in the minds of consumers. Rolex watches have had a highly standardized construction over decades that make them easy to repair and retain value. This standardization is one fundamental reason that a vibrant secondhand market for Rolexes has been able to emerge. Although Rolex itself does not make money from secondhand market transactions, the growing valuation of its vintage watches allows it to enjoy its obtainability as well as a secondary status as a furthermore high-end object of desire. Vintage Rolexes from the 1970s and earlier are becoming popular, even among celebrities, and are now achieving extraordinary prices on this secondhand market. The growth of the vintage market ensures the long-term success of Rolex as a brand, even if newer watch models are much cheaper. This cycle of strengthening brand value is what allows sources quoted by Magazine B to make statements like "Rolex is a brand that has kept its promise about the values it delivers" (62) and "Rolex is almost the only brand that possesses truly 'unchanging value'"(48).